I'm so obsessed with Eternal Instrumental version it's not funny anymore, it's been on repeat since yesterday morning .. Time like this makes me regret quitting piano back in junior high .... I mean i started learning again, but it's a long process for someone who barely has time for any hobbies anymore ..
On a better note, CD Japan sent my Eternal CD .. yayay .. i dont know what I'll be expecting thou .. i mean i saw the PV, and to be honest, my only reaction was, actually i dont even know what was my reaction, i didnt even pay attention to it, that's how boring the PV was to me, my ears still perked out for the song, but my eyes were switching back and forth between windows .. people keep saying how creative Jin is to create something as full of nothingness awesome this PV, but really, from my non-existent artistic mind, It's just plain... couldnt even hold my attention for more than 30 second .. I mean, the song was supposed the be a song about happiness right, he said he wrote it for a friend's wedding, and then go and contradict himself with the PV that scream "LONELINESS" so loud it deafen my ears/eyes ... I mean i love Jin and all, his talent is undeniable, but ...

I


Current Mood: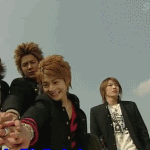 bored
Current Music: Eternal Intrus.